The idea for this blog post came about after seeing loads and loads of blogs all about the festive season; particularly Christmas. Included in many of these posts were tips or ideas about how to navigate the holiday season whilst boosting ones mental health. Whilst this made sense to me, it also alienated me.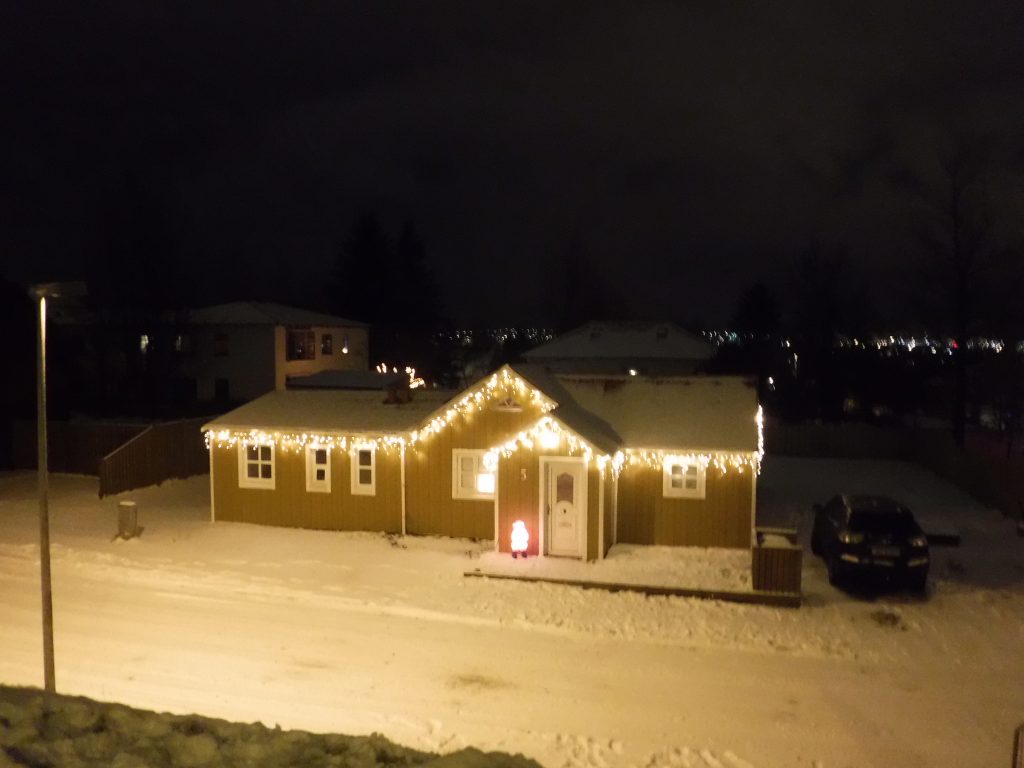 Here's the thing. I don't celebrate Christmas, I celebrate Chanukah; the Jewish "festival of lights". Whilst there are many similarities between the festivals, there are also some differences. This adds an extra dynamic to looking after my mental health at this time. Often we've been abroad over Christmas, spending time in Iceland, Thailand etc. But this year we're home and it's got me thinking. What is the impact of being one step removed when everyone else seems to be celebrating? How does it feel to be the odd one out or not part of the fun?
I also realised that it couldn't just be me. There must be others who struggle whether or however they're celebrating. And so the idea for this blog was born. But I didn't just want to think about one perspective. This is where the wonderful Sarah (@behappybysarah1) comes into the picture. We agreed 4 questions which we would both answer about how we celebrate the festive period as well as how we manage our own mental health. Below you can read her answers to the questions. You can pop over to her blog here, to read my own thoughts.
Qu1: How do you celebrate Christmas?
There are many ways to celebrate Christmas and it is done in many different ways around the entire world. Christmas in Denmark is celebrated on the 24th. Danes absolutely love Christmas. The anticipation is extremely high.
When my sister and I were kids, we had gift calendars consisting of 24 pieces of candy and other small items. This was a gift for each day before Christmas eve. Every year two of the biggest channels in Denmark sends a new Christmas show with 24 episodes. Usually there is a Christmas show for children and one for adults. Today I still watch these Christmas shows every night. It's just a tradition, even though some of the shows are actually pretty bad.
After we have gotten older, we get advent calendars from our mum instead of gift calendars for every single day in December. We also make an advent calendar for our mum and one for our grandmother. It's fun picking out little trinkets and candy for every Saturday and Sunday in December.
Calendar Candles
This is an important tradition in Denmark. We turn on a calendar candle every day with 24 markings. When my sister and I were kids, we usually did this when we were eating breakfast.
We also use Advent candles. It contains four candles, that we turn on the four Sundays leading up to Christmas Eve.
Santa Lucia
On the 13th of December, we celebrate Santa Lucia, the Catholic Saint of Light. Young girls in schools wear white dresses and hold a candle in their hands, while they walk around in a single line and sing the song of Santa Lucia. The front girl also wears a crown of candles on her head.
Christmas Eve
On the days leading up to Christmas Eve we decorate our tree with flags, baubles and a star on top.
My family is by no means Christian, but we have always gone to church in the afternoon on Christmas Eve. Most other families don't go because they are religious, it's simply a cozy time to spend with friends and family.
Food
My grandmother has always made all the food in my family. We have the same dish every year: roast duck, caramelized potatoes and boiled potatoes with duck gravy. And of course, we have risalamande for dessert. Risalamande is cold rice pudding with whipped cream, sugar, vanilla and peeled chopped almonds.
It's tradition in Denmark that one whole almond is hidden in the bowl and the finder gets a present. The fun part in our family is trying to find it and then hide it from everyone else, so they keep eating the risalamande.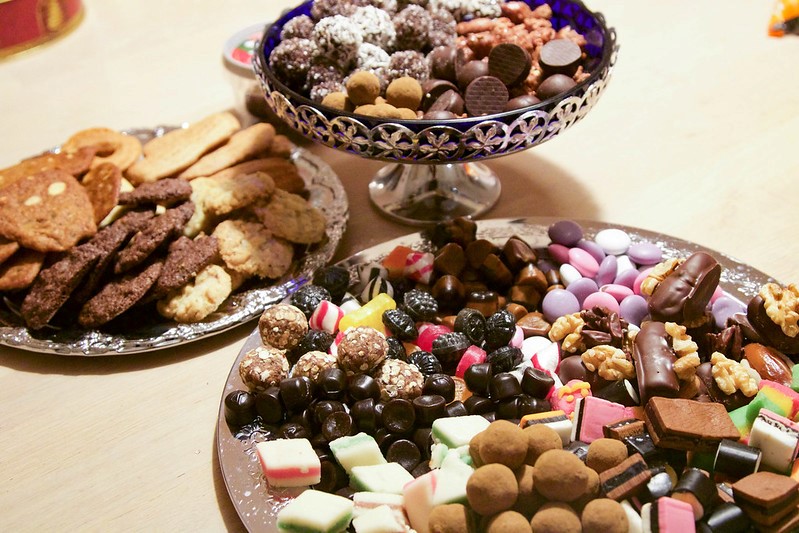 Dinner usually lasts for a couple of hours even though we are only four people celebrating Christmas together. After dinner we go into the living room and share gifts between us. One person at a time gets a gift, as it would otherwise be over way too soon. As we open gifts and talk some more, we also dig into some lovely sweets.
Qu2: What Makes Celebrating Christmas Difficult with Anxiety?
Christmas is meant to be a time of good cheer, relaxation and celebration, but for some people, Christmas can be a stressful and anxious time of the year.
Sound and vision = sensory overload!
Imagine that you are already feeling anxious about going shopping among other people. If every single store is also blaring Christmas music from their speakers, that in itself is going to be another extreme sensory overload. Christmas music especially is also not really that relaxing, is it?
Being anxious, it can be extremely difficult to navigate the crowds during sales. There are just so many people getting into your personal space, and the noise from the crowds is just the tip of the mountain.
Being surrounded by so many people during shopping and at Christmas parties, can feel suffocating and that's a very anxious feeling to experience on top of all the anxious thoughts you are experiencing in general.
Qu3: How do I manage and prepare my mental health during the Holiday season?
I have been told many times, that I should enjoy myself during this time of the year, as that is what it is meant for. But for many people, it can be a time of stress, anxiety, and depression.
Christmas Eve has never really been a problem for me, as I do in fact enjoy that particular evening. But the entire month of December can be difficult. Christmas comes with high expectations of perfect, happy families enjoying luxurious celebrations and gifts, but not all of us are able to live up to these ideas.
Some may experience feelings of loneliness, financial stress or increased family conflict.
Every year I make sure to prepare accordingly.
I get plenty of sleep
Our body does the best work of repairing itself, when we are sleeping. When I don't get enough sleep, I get cranky, moody and irritated. Without enough sleep I don't have a lot of energy to meet with friends and family.
I make sure to go to bed at the same time every night, unless I have a Christmas party to go to. Even though I do, I still get up at the same time. Otherwise I will mess with my sleep schedule
I make sure to take some time to myself
On Sundays I don't work, and I take the day to just be me. I know that not everyone can do this, if they have a family and kids around them. However, even just getting an hour or two to yourself, is amazing. I know of some mothers who take their time in the bathroom, after their kids have gone to bed, and they do a self-care routine. This is also taking time to yourself.
I bake, I cook and I do a thorough skincare and shower routine with face masks and just enjoy myself. Additionally, I had to find out how exactly I could enjoy myself, but after I did it has done wonders for me.
I don't eat a lot of junk food
December is usually a month in which people go a little overboard with junk food. It's ok too, as long as you don't go too overboard. Some of my friends say that by January they have usually gained a kilo or two. Plus eating unhealthy can really mess with your anxiety and depression.
If I have to go to a Christmas party with friends or family of course I indulge a little. You should. But I normally only eat one piece of cake for dessert instead of having two pieces.
I don't drink a lot of alcohol either
It's extremely easy to just have that second drink and then a third drink at Christmas parties. What most people don't think about is how much raw sugar and calories such drinks contain. All of this extra sugar and extra calories will simply put extra stress on your body.
When you eat foods and drink alcohol with too much sugar in them, the sugar and alcohol affect your body's nervous system. If your nervous system is under duress, it can aggravate the effects of anxiety and depression.
I generally don't drink a lot of alcohol, but I do enjoy a beer or two once in a while. After all, I am Danish. I have never enjoyed being overly drunk, so two or three beers is more than enough for me. This way, I don't throw away an entire weekend either from a hangover.
I have learned that it's ok to say no
A few years ago, I said yes to every invitation I received for Christmas parties with friends, family and coworkers. I had something to do almost every Friday, Saturday and Sunday. It was too much for my stress levels.
In the last few years I have learned that it's ok to say no. If I explain to people that I can't do something almost every night, they will understand. Most people tend to understand that everyone is busy during December and Christmas.
Learn to say no. It's a great achievement on its own.
I have fun
Sometimes people don't tend to have actual fun. They plan and prepare, but once they are at the party, they plan and prepare for the next event they have to go to, and they forget to have fun.
It's a simple thing but be present and enjoy the time with your friends and family. Forget tomorrow and have fun.
Qu4: What Do I Wish People Knew About Anxiety and Christmas?
That's a tough one, because there are so many things, I wish people knew about being mentally ill. But one thing I hear a lot is that: "but you were fine yesterday though. How can you have anxiety?"
I wish people knew, that when you have a mental illness, you can still have good days. There is also something called a mask and a facade. I usually don't let people see how I really feel, which might be a mistake on my side.
I have often heard from my friends, that they would never have expected me to struggle with anything mental, because I hide it so well. They are mostly surprised, whenever I tell someone, how much I struggle with stress, anxiety, and depression. They are surprised, or they don't believe me and think I am overreacting.
I also really wish that people would stop saying that everyone feels anxious or depressed sometimes and that I will get over it eventually. When an illness has become chronic, you don't just get over yourself. I have good days, and I have bad days, but at this point I mostly have good days, which is great of course. I just wish that people would try to be more understanding.
Just because you haven't experienced a mental illness for yourself, doesn't mean it isn't real. I am happy for those who have never been stressed or anxious. I would never wish this kind of illness on anyone, not even my worst enemy.
Final Thoughts
If there's ever a time of year to bring people together, it's the festive season. Whether it's lighting your Hanukkah candles or decorating your Christmas tree, it's okay to have mixed emotions. This time of year can be both exciting and challenging. But just remember, as this blog and the countless other ones I've seen show, you're not alone. And even if it 'tis the season to be jolly, it's okay if you find it hard.
What are your thoughts about the festive season? How do you celebrate and how do you manage your mental health?
Here's my top tips for managing my mental health!