This wonderful post on Bullet Journaling was written by Amber, blogger at The Unpredicted Page. Check out more about Amber and her social media channels below
Bullet journaling is a great thing to introduce into your daily life for multiple reasons. I asked for a bullet journal for Christmas, and it was the best thing I did! Bullet journaling has so many benefits including improving your mental health.
A bullet journal is for everyone. And anyone. So don't be afraid to jump right in and give it a go. I fully recommend trying bullet journaling as it is also a form of manifestation; which is a great way to bring positivity into your life! I know so many people who use bullet journals and love them, they are a great thing to use daily.
What is Bullet Journaling?
A bullet journal is a lovely little book which you can use every single day. You can personalise the pages and write about whatever you want.
If you do not own a bullet journal… then you will very soon! They are one of the best things to keep your grounded and on track. And you can tailor them, so they are used to benefit you the most. For example, in my bullet journal I write about my monthly goals, and I plan out what I will be doing each month so I can stay on track.
Some other ideas of bullet journaling include writing about your feelings each day, keeping a mood tracker, keeping a tracker of your monthly spending, etc. The options are unlimited. If you are due a holiday, then you can write a page to show your budgeting habits. You can write about absolutely anything!
Bullet Journaling as a Form of Manifestation
As I mentioned earlier, bullet journals can be a great form of manifestation. If you are unfamiliar with the 369 or the 555 methods of manifestation, then the best place to start is with a bullet journal. Being able to write down your thoughts and feelings can be a great place to start manifesting your future. When considering your thoughts, you can start composing affirmations for your future. With your bullet journal you can write down these affirmations and start manifesting them.
By writing your affirmations down over and over and really believing they will come true. You are manifesting your own future.
How Can it Benefit Your Mental Health?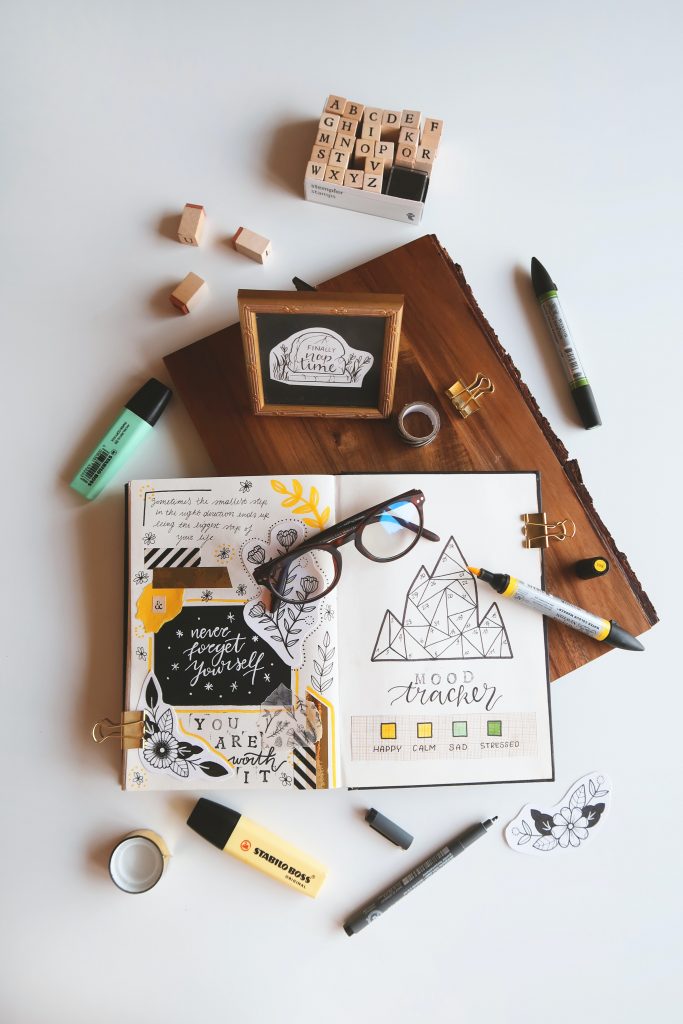 Linking on from using bullet journals for manifesting. Bullet journals are also an amazing way to focus on your mental health. This can be done in multiple ways. A great thing to do is create trackers, this can be a mood tracker or a habit tracker. This way you can stay on top of everything and see your progress.
By breaking up the little things you want to focus on it allows you to focus on one thing at a time. This means you can process all your thoughts around this one topic.
Bullet journals allow you to take time out from the real world and have some down time to think about things in a positive light.
If you like, you can dedicate your whole bullet journal to documenting your mental health. I found that having one place which includes all of your thoughts, feelings and trackers in one place can make it so much more manageable.
For 4 Ways to Check in With Your Mental Health read here
For 5 Benefits to Meal Planning read here
For A Guide to Gaining a Positive Perspective read here.
How to Start a Bullet Journal?
Traditionally, bullet journals are normally little books with dotted pages so you can draw straight lines and create diagrams and tables. But I have seen more and more people start bullet journals online now which is also a great idea! There are so many pros of starting a digital bullet journal. It means its always safe on your device whether that be your phone or your iPad or laptop. It also means if you're not the creative type, then you can use templates and proformas that have been created online. It will save you a bit of time if you lead a busy life. Using coloured pens/ coloured templates is a great way to separate any topics you may have. If you are a visual person then this may work for you.
Alternatively, if you want to be a little more creative, you can start you bullet journal on paper. You can buy them from stationery shops. Amazon also have a lovely range of journals you can pick from. If you want you could even create your own with some piece of paper.
Final Thoughts on Bullet Journaling
You can start a bullet journal at any point in your life so pick one up right now! Or get creative. The great thing about bullet journals is that you can take it anywhere with you. So, it will become your own personal extension. It will become a safe place for you which is what makes it so great. As always, bullet journals may not be for everyone. But make sure you give it a good go; you may love it!
Bullet journaling brings so many positives for your mental health that it is well worth trying and seeing if it is something that works for you. The great thing is you can personalise your journal and make it completely tailored to you. You can include any topics that you like and make the pages as simple or as creative as you like. If you are someone that loves drawing, then getting creative with your pages can be a great way to calm yourself down or wind down after a long day.
I currently use my journal for manifesting and to help track my mental health and I have never felt better. I am someone who needs to stay on top of things, so this was the best way to do this for me.
Let me know your thoughts on bullet journaling and if you have ever given it a go!
Amber is a current student studying Accounting and Finance whilst running her blog on the side. She has been running her blog (The Unpredicted Page) for over a year now. She is also a fashion blogger over on Instagram. You can find Amber on her socials: Instagram, Twitter, Blog.